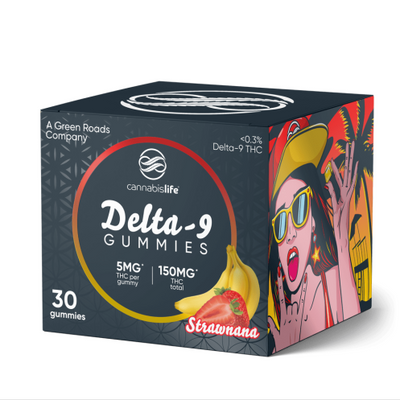 Delta-9 THC Gummies by Cannabis Life are made with the same THC you know and love. (Delta-9 is just part of the chemical name of the compound.) One 5mg Strawnana THC gummy and you'll unlock ultimate relaxation bliss, right when you need it most.
Why it's special
Our Strawnana and Lemon Lime flavor combines the taste, creating a delightful, fruit-forward flavor.
Each jar has 30 gummies - perfect to share with friends.
Each gummy includes Delta-9 THC derived from hemp grown on American farms.
Every batch is tested by an independent lab, ensuring quality in every bite!
Note: Delta-9 THC may cause feelings of intoxication and impairment. Please use responsibly.
Hemp and marijuana plants are both members of the cannabis family. Each features dozens of cannabinoids, including CBD and THC. Delta-9 THC, which is the main type of THC and is most commonly associated with feelings of intoxication, can be derived from both hemp and marijuana plants.
While marijuana-derived CBD and THC are federally illegal, hemp-derived options — like those offered by Green Roads and Cannabis Life— are federally compliant thanks to the 2018 Farm Bill. However, it's important to note that Delta-9 may cause feelings of intoxication and impairment. So it's best to consume these types of products when "off-the-clock."
We custom fill your orders within 48 hours. Since we ship direct from the manufacturer it can take up to 7 to 14 days to arrive (international orders may take 21 days). But once you get your stuff you will know it was worth the wait.
This is for returns
Cannabis Life 𝚫9 Strawnana Lemon Lime Gummies
HURRY! ONLY 10 LEFT IN STOCK!