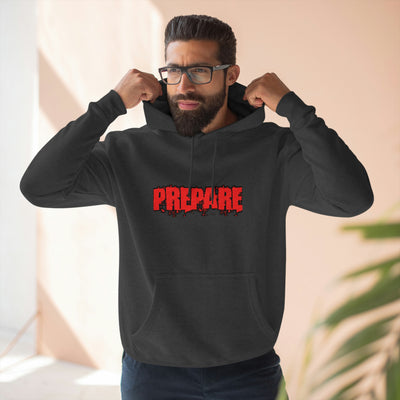 Description:
 Introducing "Prepare", a brand-new clothing line designed to inspire and empower you to face life's experiences with confidence and style. Our collection features high-quality t-shirts, hoodies, and long sleeve shirts, all crafted to provide comfort and durability, while showcasing your readiness to embrace every opportunity life has to offer. Available now on eBay, Amazon, and Etsy, "Prepare" is your go-to choice for fashionable, inspiring, and comfortable apparel.
Key Features:
 Premium Quality: "Prepare" clothing is made from superior materials, ensuring a comfortable fit and long-lasting wear. Our t-shirts, hoodies, and long sleeve shirts boast soft, breathable fabric blends that provide both style and comfort for everyday use.
Trendy Designs: Our unique and eye-catching designs serve as a constant reminder to be prepared for any situation life throws at you. With a range of styles and colors, you'll find the perfect piece to express your personality and inspire your journey.
Unisex Appeal: The "Prepare" collection is designed to suit everyone, with unisex sizing and styles that cater to all ages, shapes, and sizes. Our clothing is as versatile as you are, ready to accompany you through life's experiences.
Inspiring Message: Wearing "Prepare" apparel is more than just a fashion statement - it's a declaration of your resilience and readiness to face challenges head-on. Our brand aims to empower individuals to embrace life's twists and turns with confidence and positivity.
Perfect Gift: With their inspiring message and trendy designs, "Prepare" t-shirts, hoodies, and long sleeve shirts make the perfect gift for friends and family who are passionate about personal growth, adventure, or simply need a reminder to stay prepared for life's surprises.
Wide Availability: You can find "Prepare" clothing on popular online marketplaces such as Bancroft's Choice, eBay, Amazon, and Etsy, ensuring a seamless shopping experience with reliable shipping and excellent customer service.
Satisfaction Guaranteed: We are committed to providing you with high-quality products and exceptional customer service. If you are not satisfied with your purchase, simply reach out to us, and we'll make it right.
Choose "Prepare" and wear your resilience on your sleeve. Be ready to face life's experiences with confidence and style, and maximize your potential to overcome any challenge. Don't miss out on this inspiring, fashionable, and comfortable clothing line. Shop now and get prepared for the journey ahead!
We custom fill your orders within 48 hours. Since we ship direct from the manufacturer it can take up to 7 to 14 days to arrive (international orders may take 21 days). But once you get your stuff you will know it was worth the wait.
This is for returns
Prepare - Premium Black and Red, Hoodies - Embrace Life's Experiences